At UFC 158, Georges St-Pierre will be defending his UFC Welterweight title for his 10th consecutive time. Opposite to him in the cage will be former Strikeforce Welterweight Champion Nick Diaz. GSP has been undefeated since 2007 and has only lost twice in his entire 11 year career. Will Nick Diaz be able to defy the odds and become the new UFC Welterweight champion?
Here are 4 reasons why Nick Diaz will be GSP's toughest challenger;
1. The Active Gaurd of Nick Diaz
Nick Diaz is an elite No-GI BJJ practitioner in the Welterweight division. Has been practicing BJJ for almost 14 years and is one of a small handful of BJJ Blackbelts under Cesar Gracie. He took the US Purple Belt Open in 2004 and the Pan American Brown Belt Medium Weight Division Title in 2005. He has finished 9 of his 22 finishes with a submission in MMA and is 1 of only 3 people to successfully land a gogoplata in an MMA match.
Nick Diaz is no stranger from fighting off his back and from his gaurd. He is very comfortable from the bottom and actively attempts submissions. His long limbs and flexibility aid him well from his gaurd.
Here is Nick at the age of 19 against Blaine Tyler showcasing a plethora of submission attempts and controlling the grappling from the bottom.
Full fight link:
http://www.youtube.com/watch?v=eilxHoT8rvw
Nick Diaz submitting Mach Sakurai with an armbar from the bottom.
Nick's flip into armbar finish on Santos.
Nicks infamous Gogoplata on Gomi.
Nick methodically sinking into Scott Smith with a RNC.
Nick's Kimura finish on Josh Neer.
Nick controlling the grappling and throwing out sub attempts from the bottom against Joe Riggs.
Nick transitioning from a kimura into an armbar against Muhsin Corbbrey.
Nick controlling the grappling and attempting sub's and sweeps against Sean Sherk.
GSP is very good at controlling his opponent from the top position, being aggresssive and landing shots while attempting to improve his position and look for sub attempts. It will be very interesting to see the match up of Diaz's gaurd against GSP's top game. Nick Diaz can very well pull off a submission victory in the bout.
2. Nick Diaz's Iron Man Endurance and Stamina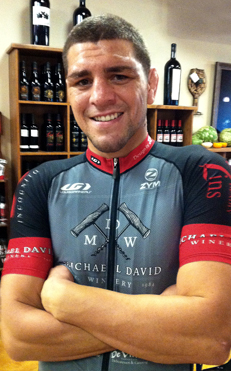 Through out Nick's MMA career, he has only been finished once. Jeremy Jackson KO'd Diaz back in 2002 when he was only 19. since then he avenged the loss against Jackson both in the rematch and the rubbermatch with finishes coming from TKO and Submission. Nick's chin has been continually tested and from what we can tell, it has been forged from diamond. He has taken punches that have Knocked him down from known KO artists such as Marius Zaromskis,Takanori Gomi, and Paul Daley (twice) and was able to come back stronger and finish them. He also actively competes in triathlons, duathlons and xterra mountain biking courses. He is able to confidently press the action for 5 rounds going 100% and not gas out. Diaz has said, "Fighters are afraid of conditioning, they are afraid of getting tired, but I don't want to have anxiety or be afraid of anything. I can go 100 percent out there and never have to worry about getting tired. Everybody says fighting is 90 percent mental, and it's true. Knowing you can go 15 minutes or 25 minutes without any problem can help you sustain that mental advantage over your opponent...". His combination of endurance and stamina is unrivaled and a large part to his success in both BJJ and MMA.
It's pretty safe to say that GSP will not be able to Knock out Nick Diaz. Alongside with GSP's trending decision victories, it points towards the fight going the distance, which only improves Diaz's chances to finish the later the fight goes.
3. Nick Diaz's Boxing and Clinch
Nick Diaz has been training boxing with his Boxing coach Richard Perez since 2004. Since 2004 his stand up has gotten exponentially better with each fight and has amassed 9 finishes by (T)KO after picking up the new skill set. He trains and spars with former WBA and WBC World Champion Luisito Espinosa and Olympic Boxing Gold Medalist Andre Ward. Andre has commented on Diaz's boxing stating ""I appreciate and admire [Diaz's] courage,Nick has good hands, some of the best hands in MMA."
His ability to push an unmatched pace, with volume punching leading his combinations off from jabs with help use his long range and gauge his accuracy has been unmatched. His mix up's of power and body and head combinations are deadly. His most underrated aspect of his stand up is his clinch and dirty boxing. If Nick senses he is in danger up close, he clinches well to avoid power shots, pushes his opponent against the cage, controls them and uses a variety of different strikes ranging from shoulder strikes, knees, elbows, ripping body combos and even the occasional hiptoss.
4. He Aint No Bitch